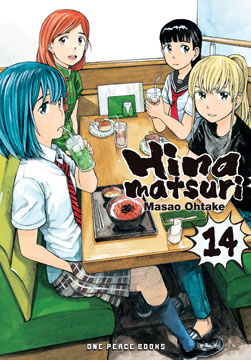 Hinamatsuri Volume 14
$11.95
200 pages
ISBN: 978-1-64273-164-4
Published: 2022
Catch up on the very unusual lives of four 16-year-old girls living in Tokyo (stated age may or may not be accurate for characters visiting from the future).
There's Hina Nitta, the psychokinetic high schooler; Anzu, the ramen cart owner who's stubbornly carrying on a cherished family recipe; Mao, the kung fu beauty who just wants to make a friend; and Hitomi Mishima, the wunderkind CEO who can't stop moving up in the world.
They're all making their way forward the only way they know how, jumping from one absurd situation to the next. Get ready for a rollercoaster ride of emotions in this jam-packed new volume of Hinamatsuri!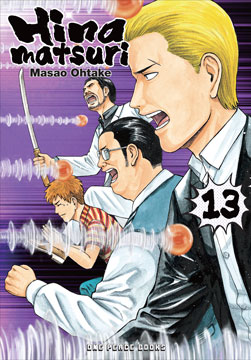 Hinamatsuri Volume 13
$11.95
192 pages
ISBN: 978-1-64273-128-6
Published: 2021
The Jadou Association's hired thugs have been sent running back to Western Japan, and the Oudou's hierarchy has managed to avoid complete collapse, thanks to the determined efforts of Hina and Yoshifumi Nitta—aka "The Monster of the Modern Era."
But things won't stay quiet for long. The next phase of the Jadou's takeover plot is already in motion. To spearhead the offensive, they've sent one of their top lieutenants deep into Oudou territory. His name? Masaki Tsuda. And at his side stands a mysterious young boy. Steel yourself for another wave of earth-shattering yakuza combat in volume 13 of Hinamatsuri!
Hinamatsuri Volume 12
$11.95
200 pages
ISBN: 978-1-64273-107-1
Published: 2021
Take another peek into the daily lives of three psychokinetic girls who have settled down in modern-day Tokyo. Hina is loafing her way through high school, Anzu is serving up ramen from her very own food cart, and Mao is busy teaching classes at her trendy new fitness club. But while the three have been careful to keep their powers under wraps, looming danger may force them to take a few risks. Prepare yourself for new outbursts of psychokinetic fury in Volume 12 of Hinamatsuri!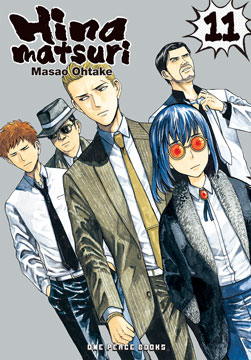 Hinamatsuri Volume 11
$11.95
192 pages
ISBN: 978-1-64273-079-1
Published: 2021
Yoshifumi Nitta. Age: 36. Occupation: Yakuza. Number of children: 1. (Erm… Kind of.) When you're stuck in an endless sprint on the fast track to success and busy maintaining your image as the fearsome "Monster of the Modern Era," there's never a moment to just kick back and relax. But now, Nitta comes head to head with an entirely new threat: High school student and entrepreneur extraordinaire Hitomi Mishima. Get ready for a sales strategy showdown between monster mobster and talented teenager in Volume 11 of Hinamatsuri!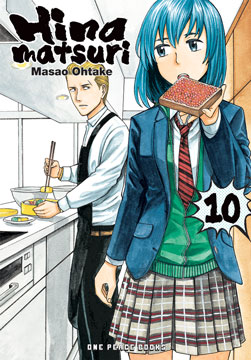 Hinamatsuri Volume 10
$11.95
192 pages
ISBN: 978-1-64273-078-4
Published: 2020
Three years have passed since Hina crashed straight into Nitta's life. She's grown into a charming young high schooler. But what kind of school accepts a student with academic performance like Hina's? And what about Nitta? Is the "Monster of the Modern Era" still living up to his underworld reputation?
Hitomi's grown up, too. What kind of future does an unstoppable middle school student choose? And don't forget about Anzu. What's the perfect daughter doing with her life now?
The urban life comedy about a psychokinetic girl and her yakuza caretaker hits double digits with Hinamatsuri Volume 10!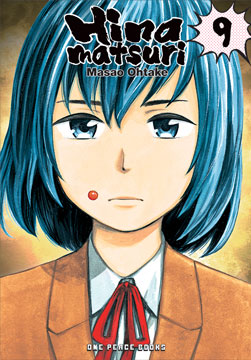 Hinamatsuri Volume 09
$11.95
192 pages
ISBN: 978-1-64273-058-6
Published: 2020
One day a little girl with bewildering supernatural powers dropped right into the middle of an ambitious young yakuza member's life. His name was Yoshifumi Nitta, and hers was Hina. Thus began their days together (forcibly, thanks to Hina's powers).
Now a year has passed, Nitta has taken over the title of lieutenant in his syndicate, and he seems to be doing well enough in his role as Hina's pretend father. Yet the duo's time together is rarely peaceful—every day seems to hold a new calamity in store.
All the while, middle schooler Hitomi Mishima keeps climbing her way to the top, and the soul-crushing story of Mao, the third psychokinetic girl, continues to unfold.
Get ready to discover a whole new world of laughs in Hinamatsuri Volume 9!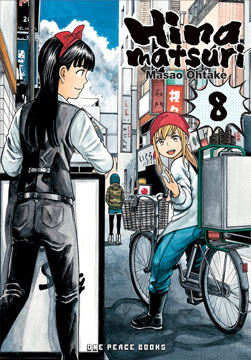 Hinamatsuri Volume 08
$11.95
192 pages
ISBN: 978-1-64273-057-9
Published: 2020
A third psychokinetic girl appears! Yet another girl is summoned to try and drag Hina back to their world! After Anzu, this makes three! The new girl's name? Mao.
There's only one small hiccup: when Mao arrives, she finds herself stuck on a solitary island way out in the ocean. It looks like this psychokinetic girl's gonna be busy polishing up on her wilderness survival skills first.
Meanwhile, Anzu tries out her first day of school, and Hitomi continues to rise to new, international heights when she finds herself on a short-term exchange program.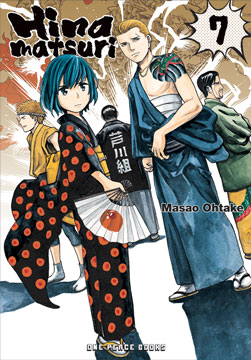 Hinamatsuri Volume 07
$11.95
208 pages
ISBN: 978-1-64273-056-2
Published: 2020
Get ready for more adventures with the psychokinetic girl and her yakuza caretaker! The mysterious Kei continues to observe Hina from a safe distance. Once her investigation is complete, it will be time to move on to the next mission: bring Hina back. Is Nitta and Hina's life together about to come to an end?! Find out in volume 7 of Hinamatsuri!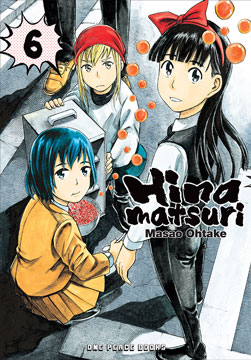 Hinamatsuri Volume 06
$11.95
200 pages
ISBN: 978-1-64273-032-6
Published: 2020
Hitomi is in the first grade of middle school, where she's in charge of taking care of Hina, her hapless classmate. Her kindhearted nature prevents her from turning down any request for help, and she seems to have a knack for everything she tries. The two traits are a catastrophic combination that lead to Hitomi working downtown as a bartender after school, where her drive toward perfection and skill with customers rockets her to notoriety as a bartending prodigy.
But now, it gets worse! When Hitomi's mother finds out about her daughter's nighttime gig, things blow up at home and Hitomi decides to run away.
Volume 6 features the laugh-out-loud tale of Hitomi's rise to new heights, along with the adventures of a whole slew of new characters.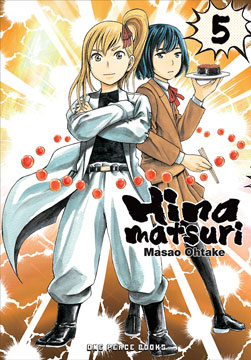 Hinamatsuri Volume 05
$11.95
200 pages
ISBN: 978-1-64273-031-9
Published: 2019
She cries. She smiles. She's the other psychokinetic girl we've come to know!
Anzu continues to enjoy an impoverished, yet delightful, life with her homeless compatriots. But when the park they all call home is slated for removal, the other residents don't even put up a fight. They decide it's a lost cause and prepare to move on, but Anzu acts on her own initiative, setting in motion a plan to protect her one and only "home."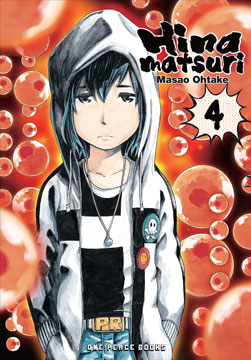 Hinamatsuri Volume 04
$11.95
190 pages
ISBN: 978-1-64273-030-2
Published: 2019
Hina, our psychokinetic heroine, is acting strange! It has been some time since Hina first used her immense powers to threaten Nitta and claim a spot in his home—settling into her new life in modern Japan and spending most of her time lazing about. But now, something seems to have changed. First, Hina's inner hard-rockin' spirit begins to thrash out. Then, she gets herself involved in the world of shady lending. And finally, she starts . . . taking lessons in social etiquette and the arts? What on earth has gotten into this girl?! Also revealed in this volume is Hina's mysterious classmate, Sayo Aizawa—until now just a strange presence appearing in occasional panels.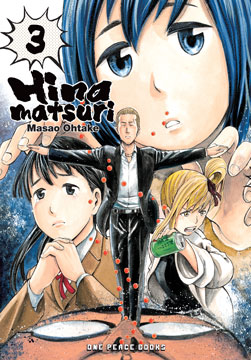 Hinamatsuri Volume 03
$11.95
200 pages
ISBN: 978-1-64273-015-9
Published: 2019
The Doll Festival, or Hinamatsuri, is a celebration held in hopes that young girls grow up healthy and happy. Fortunately, as the bizarre world of Hinamatsuri continues to unfold, our beloved characters are all doing just that: audacious-little-psychokinetic Hina, brave-homeless-girl Anzu, and talented-junior-high-schooler Hitomi. This volume joins the celebration with two all-new extra chapters you won't want to miss!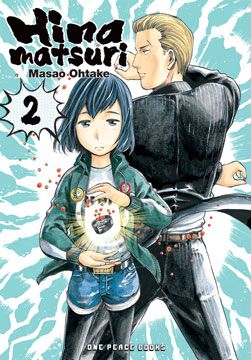 Hinamatsuri Volume 02
$11.95
192 pages
ISBN: 978-1-64273-012-8
Published: 2019
Nitta, our young and upcoming yazuka, has finally begun to grow accustomed to living with—and often being pushed around by—Hina, the little girl with psychokinetic powers who (practically) takes over his life. But then another psychokinetic girl suddenly appears! Her name is Anzu, and unlike Hina, she loves a good fight. After annihilating a biker gang, Anzu begins searching for Hina and stirring up all kinds of trouble along the way. When Nitta learns of Anzu and her intentions, he comes up with a plan to stop her, but could it actually work?! Prepare to be assaulted by uncontrollable fits of laughter when a battle of supernatural powers ensues and Nitta's life spins further out of control! The massively popular Hitomi also makes an appearance in a never-before-seen extra chapter!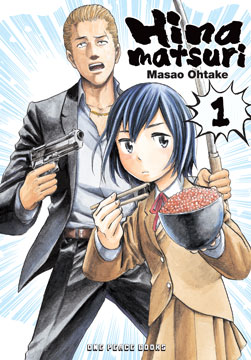 Hinamatsuri Volume 01
$11.95
208 pages
ISBN: 978-1-64273-005-0
Published: 2018
Nitta is an ambitious, young member of the Ashikawa-gumi yakuza syndicate. One day, a mysterious, oval-shaped object falls out of thin air into his apartment, and suddenly changes everything! Inside of the object is an expressionless young girl named Hina. The girl has formidable telekinetic powers that she uses to threaten Nitta, forcing him to allow her to live in his apartment. Dangers abound as the yakuza member and young psychic begin their life together as roommates!
Masao Ohtake is the author of the hit manga Hinamatsuri. It has been adapted into an animated series.